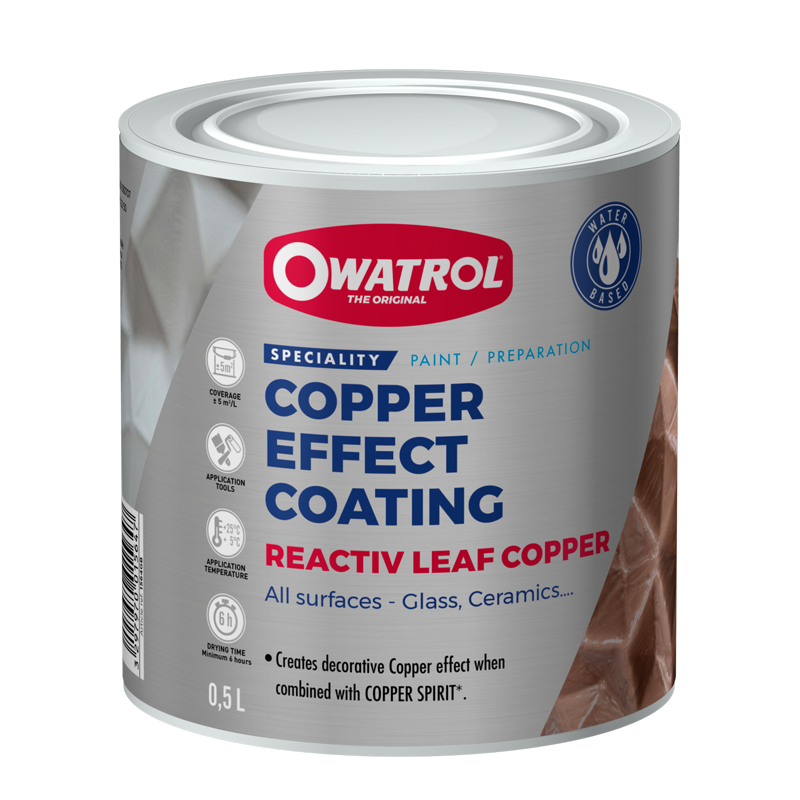 Reactiv Leaf Copper
Copper effect paint that also allows for verdigris oxidising designs
Creates copper effect on any surface
Allows for verdigris oxidising when used with Copper Spirit
Easy application
Available in a 500ml or 2.5litres
Suitable for interior and exterior use
Reactiv Leaf Copper is a paint that gives a copper appearance to any surface.
Use it to up-cycle any thing, from interior design ornaments, to garden features to walls!
When combined with the application of Copper Spirit, it creates a natural grey/green (Verdigris) decorative effect.
Ideal uses for Reactiv Leaf Copper
Give any surface a copper effect
Once applied, can be used alongside Copper Spirit
Revamp your interior or exterior design
Decorate home ornaments
Use on external garden surfaces
Before you start
Cover and protect everything you do not wish to coat.
Apply between 5°C and 25°C.
Do not apply to hot surfaces.
Surface Preparation
Surfaces must be in good sound condition, clean, dry and free of all grease, oil and other surface contamination.
Meticulously clean surface using a suitable cleaning agent depending on the substrate and contamination e.g. Acetone, Hot Soapy Water (rinse thoroughly) etc.
Non-Porous and Difficult Surfaces (Plastic, Glass, Stainless Steel, Non-Ferrous Metals etc)
Primer surface with Absolute Primer prior to using Reactiv Leaf Copper.
Surfaces Sensitive to Acids (Woods high in tannin e.g. Oak, Chestnut. Some Plastics)
Primer surface with Blocking Primer prior to using Reactiv Leaf Copper.
Note: Reactiv Leaf Copper is not required on copper surfaces.
Application of Reactiv Leaf Copper
Use as is. Do not thin.
Stir or shake well before use.
Apply a coat of Reactiv Leaf Copper to the surface being treated.
Allow to dry.
See Copper Spirit Technical Data Sheet for next stage.
Using a brush to apply Reactiv Leaf Copper with a dabbing action allows for a very natural grey/green oxide effect to be created (see video).
The decorative effect may be adjusted by allowing the 1st coat of Reactiv Leaf Copper to fully dry and then applying the 2nd coat of Reactiv Leaf Copper and/or Bronze Copper in localised areas.
Clean Up
Soap and water.
Technical Data
| | |
| --- | --- |
| Coverage: | 5m2 per litre |
| Tools: | Brush or Roller |
| Suitable for: | Interior & Exterior use |
| Clean up: | Soap & Water |
| Drying Time: | 6 hours |
| Suitable Surfaces: | All surfaces – glass, ceramic, metal etc |