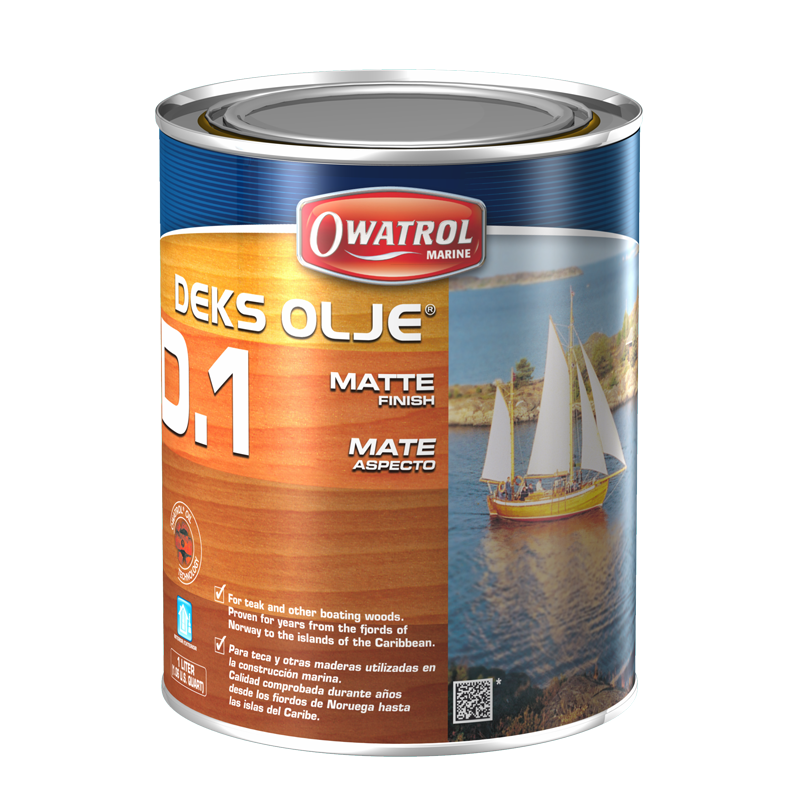 Deks Olje D1
Saturating wood oil with a clear matt finish
Ideal for use on new oak and tropical hardwoods - perfect for dense wood species
Penetrates the wood fully and protects from within
Extremely thin oil which saturates the wood, literally feeding it from within
Easy maintenance - no sanding or stripping
Replaces the natural oils lost from the wood and will not blacken the timber
Suitable for interior and exterior use
Deks Olje D1 is a saturating wood oil which feeds the wood to replace lost oils. It drives out any moisture and air present in the wood and fills the pores with oil. This enriches and stabilises the wood to provide long-lasting protection to both interior and exterior timber. It does not form a film on the surface of the wood but protects from within so it will not peel or crack. Deks Olje D1 is a clear oil which gives a clear matt finish enhancing the natural beauty of the wood and it is easy to maintain with no sanding or stripping.
Deks Olje D1 is suitable for use on hardwood and softwood and has been specially developed for dense, oily and difficult to impregnate woods. You can use Deks Olje D1 on both horizontal and vertical surfaces and it provides protection against humidity and its effects as well as against damage from UV rays.
When applied in marine environments you can apply to both above and below the waterline.
It can also be used as a primer for conventional singles pack coatings and decorative finishes. For an intense high gloss finish topcoat with Deks Olje D1 with Deks Olje D2.
Ideal Uses for Deks Olje D1 saturating wood oil
Preserving your parquet flooring
Protecting your outdoor garden furniture
Treating your boat hull
Protecting your timber decking
Reviving your door and window frames
Surface Preparation
Surfaces must first be clean, dry and free of dirt, grease, grime, mildew and previous coatings. Treat any mildew with a 50/50 bleach/water solution. Scrub the solution on to the surface and allow it to stand for 10-15 minutes. Then rinse thoroughly.
After stripping and cleaning, allow the wood to dry for 2-3 good drying days before applying Deks Olje D1. D1 may only be applied to bare wood surfaces or a weathered wood surface that was previously finished with Deks Olje D1. All other finishes must be completely and thoroughly removed first. If necessary sand the surface after cleaning and/or stripping (100 grit paper).
New wood
Interior – Sand wood with 100 grit paper to open the pores, dust off and degrease the surface with methylated spirits.
Exterior – Prepare as for interior wood or treat the surface with Aquanett and then neutralise with Net-Trol.
New wood surfaces have a hard shiny surface called mill glaze that prevents maximum penetration and bonding of any finish; sanding or treating the wood with Aquanett removes this, ensuring maximum performance of the finish.
Weathered wood surfaces (untreated)
Clean weathered wood with Net-Trol, to remove the loose wood fibres, dirt and other surface contaminants. If the wood is severely contaminated, clean it with Aquanett and neutralise with Net-Trol.
Previously oiled surfaces
All other oils or sealers must be completely and thoroughly removed with Aquanett and stripped surfaces neutralised with Net-Trol, before applying Deks Olje D1.
Previously coated surfaces (Paint, Stain, Varnish, Waterproofers)
All previous coatings must be completely and thoroughly removed with Dilunett and stripped surfaces neutralised with Net-Trol before applying Deks Olje D1.
Note: Hardwoods including exotic hardwoods and woods rich in tannins (i.e. Cedar, Douglas Fir, Teak, Ipe) may darken with Aquanett and Dilunett. Neutralising with Net-Trol immediately after rinsing will lighten and restore the woods colour.
Application tools
Brush
Roller
Garden Sprayer (maintenance only)
Application of Deks Olje D1 saturating wood oil
The secret of Deks Olje's success lies in its saturation of the wood to bring about an even 'matt sheen' finish when dry. Start by applying Deks Olje D1 to an area that can be treated in about 15 minutes. As soon as the 1st application has penetrated (normally 15-30 minutes), apply a 2nd application. Then continue applying D1 'wet on wet' until a uniform, overall saturation of the wood is achieved. The number of applications needed depends on the wood.
DO NOT allow Deks Olje D1 to become dry or touch dry between applications. Leave the final application for 30 minutes, then wipe over the surface to remove excess and puddled material with a rag soaked in Deks Olje D1 and rung out so that it is damp to the touch. If necessary occasionally ring out the cloth to keep it damp. It is important that as much D1 as possible is applied on the first day.
Deks Olje D1 must be kept 'active', this is done by the 'wet on wet' applications and the continual brushing over of the area, which assists and helps achieve maximum penetration. D1 has high penetration; its place is in the wood and not as a surface coating. Allow 3 days for D1 to set-up and dry, before use or in marine uses before putting the boat in service or continuing with Deks Olje D2. Temperature is of very little importance when applying D1.
Clean Up
Clean all tools and equipment with white spirits while still wet. If allowed to dry, remove with paint stripper. Wipe up any drips or runs immediately with a cloth soaked in white spirits. Dried Deks Olje D1 may be removed with Dilunett. Store and maintain equipment as directed by manufacturer.
Note: Any rags, steel wool etc. soaked in D1 may spontaneously catch fire if improperly discarded. Rags, steel wool etc. must be saturated with water after use or placed in a sealed, water filled metal container, before disposing of it with household waste.
Maintenance
Regular washing with Net-Trol will help to maintain the appearance of Deks Olje D1. It will gradually lighten over time due to exposure to the sun and UV rays. When the wood has lightened to a light grey colour, it is time for a maintenance application. Clean the surface with Net-Trol and then apply Deks Olje D1 until the wood is saturated and the finish restored, usually 1 or 2 applications will be sufficient.
Restrictions
Deks Olje D1 may soften some caulking. If in doubt consult us. The tannins and natural oils in woods such as Iroko impede the penetration and drying of finishes. These species of wood should be thoroughly prepared or allowed to weather for 12 months before applying Deks Olje D1. Contact us for preparation advice. If using on plywood – contact us first. Do not use Deks Olje D1 on thermo treated wood.
Things to Remember
Cover everything you do not wish to paint.
Apply between 5˚C and 35˚C.
Do not apply in direct sunlight or on to hot surfaces.
After spray application, always back-brush or back-roll to improve penetration and uniformity of coverage.
Technical Data
| | |
| --- | --- |
| Coverage: | 1-4m2 per litre (8-10m² for maintenance) |
| Tools: | Brush, Roller, Garden Sprayer (maintenance only) |
| Suitable for: | Exterior & Interior use |
| Clean up: | White Spirit |
| Drying Time: | 24 hours |
| Re-coating Time: | Apply 'wet-on-wet' |
| Suitable Surfaces: | All Hardwoods (including below the waterline) and Softwoods |