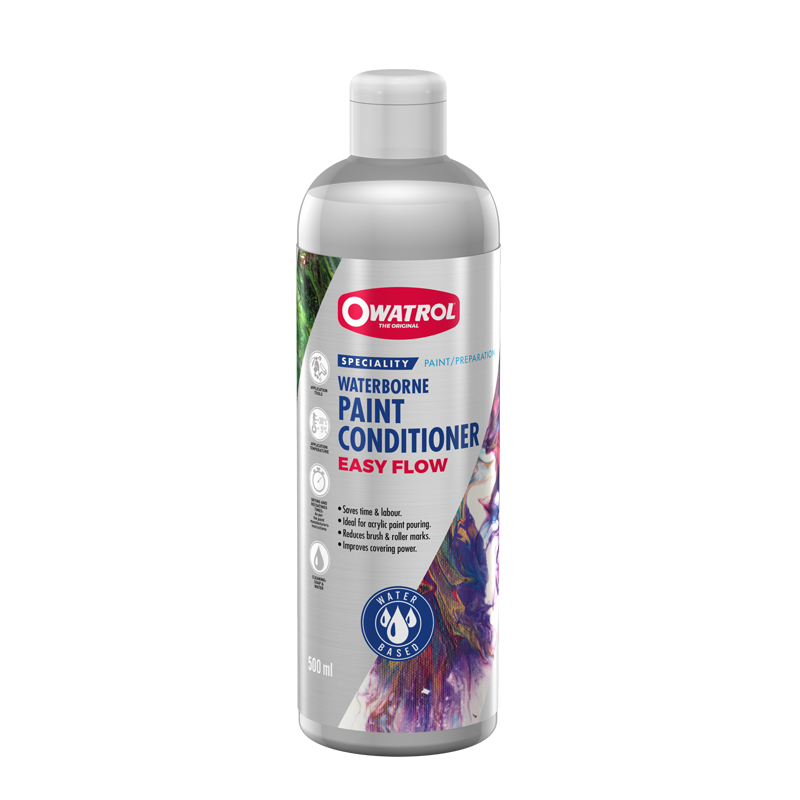 Easy Flow
Water-based paint conditioner to eliminate brush and roller marks
Use in all water-based paints
Improves the flow and maintains the wet edge - paint without effort
Improves the finish - maintains the inherent quality and characteristics of the paint
Suitable for interior and exterior use
Great for acrylic paint pouring
Easy Flow is a water-based paint conditioner which makes interior and exterior emulsion and acrylic paints including colored wood stains work more like oil-based paints. It helps to improve paint flow and workability and allows the paint to adjust to more difficult conditions such as hot, cold and windy environments.
Arguably most importantly, it helps to eliminate brush and roller marks by improving the flow of the paint giving a much more professional finish and helping you to make progress more quickly.
Unlike damaging paint thinners or water, Easy Flow does all this without affecting the inherent qualities of the paint and without affecting its color. When used in a paint sprayer, Easy Flow allows up to 20% reduction in pressure without affecting the spray pattern or performance and helps to prevent clogging and wear and tear on tips.
Easy Flow can also be used as a medium for acrylic paint pouring art. Easy Flow's composition helps to create the highly sought after strong, well-formed cells most artists are looking for.
Ideal Uses for Easy Flow
Using as a medium in paint pouring art
Exterior painting in hot, cold or windy weather
When having problems with brush marks when painting
Using a paint spray gun – Easy Flow helps to extend its life by reducing wear and tear
Reducing roller pressure and preventing paint build up at the ends of the roller
Providing a spray-like finish when rolling
Restrictions
Easy Flow is milky white in color and as such cannot be used in clear varnishes. Do not add Easy Flow to oil or alkyd based paints including glycerophtalic paint, for these paints use Owatrol Oil to achieve the same results.
Application tools
Roller
Brush
Airless, HVLP or Cup Gun Sprayer
Surface Preparation
Prepare surface as per instructions on your paint/finish can. As part of this please ensure that you have removed all loose and flaking material. You should also treat any organic growth (mold etc.) with a fungicidal solution or a mix of 1 part water to 1 part chlorine bleach (allow the bleach solution to sit for 15 minutes), rinse thoroughly and allow to dry.
Application
Stir your paint thoroughly and begin to apply in the normal manner. If paint the pulls, sets too fast, does not level or flow properly, add Easy Flow until the paint spreads smoothly, easily and provides sufficient 'wet-edge'. Allow the brush, roller or sprayer to be your guide.
To add Easy Flow first shake the container well. Then add the Easy Flow following the guidelines below and stir the mixture thoroughly.
Now apply your paint and Easy Flow mixture to your surface in the normal manner.
Using Easy Flow with a Brush or Roller
Add approximately 7-10% per liter of paint. If the paint is thick, or in extreme temperatures, more Easy Flow may gradually be added, up to 15% per liter.
Using Easy Flow with an HVLP & Cup Gun sprayer
Add 5-10% per liter of paint. The amount depends on the consistency and flow properties of the paint. If the paint seems to thicken, add a tablespoon of water per liter of paint to thin it.
Using Easy Flow with an Airless sprayer
Add up to 10% per liter of paint.
Using Easy Flow for Faux finishing
Add 20-25% per liter of paint. Do not add too much conditioner for vertical surfaces as the technique may sag or vanish.
Clean Up
Clean all tools and equipment with soap and water.
Things to Remember
Cover everything you do not wish to paint
Always mix a small amount with Easy Flow first to test compatibility
The amount of Easy Flow added will not change the color of matte or semi-gloss emulsion or acrylic paints. Easy Flow may reduce the sheen in gloss paints.
Do not use in clear varnishes
Do not use Easy Flow in oil-based paints – instead use Owatrol Oil for the same effects
Technical Data
| | |
| --- | --- |
| Coverage: | Coverage will vary |
| Tools: | Brush, Roller, Airless, HVLP or Cup Gun Sprayer |
| Suitable for: | Exterior & Interior use |
| Clean up: | Soap & Water |
| Drying Time: | As per paint manufacturer's instructions |
| Additive for: | Water-based coatings – Emulsion, Acrylic, Vinyls |
| Suitable Surfaces: | Paint, woodstains, varnishes (not clear) |