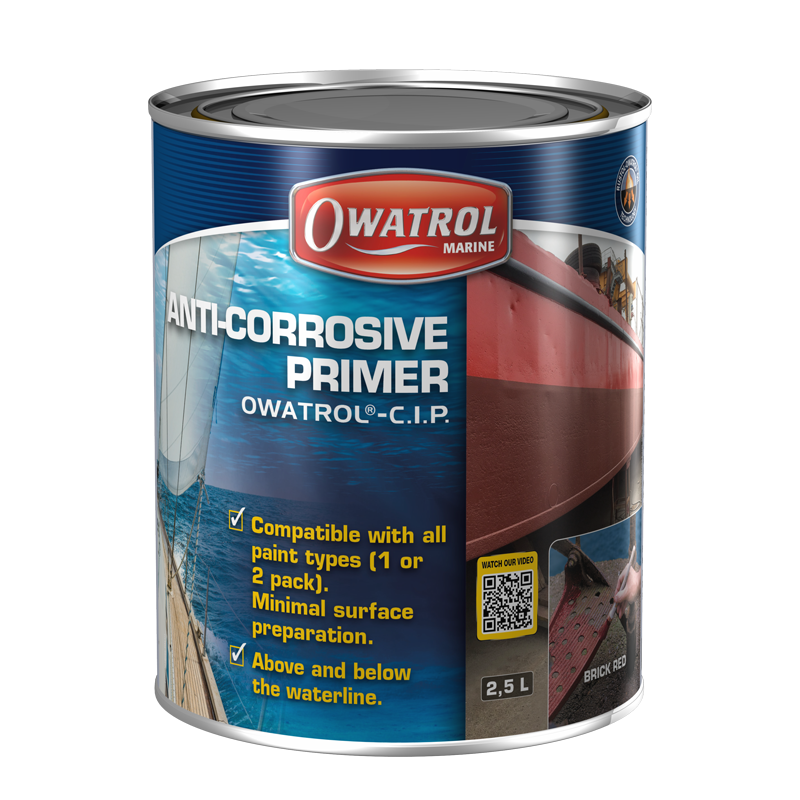 Marine CIP
Rust-inhibiting penetrating primer for overcoating with any paint
Accepts all paint types - Polyurethane, Epoxy, Chlorinated, Rubber, Car paints, etc.
Ideal for difficult conditions such as marine environments
Stabilises the surface whilst penetrating the substrate, driving out excess moisture and air
Provides a solid stable layer that other paints can firmly adhere to
Minimal preparation required - eliminates the need for sandblasting
CIP (Corrosive Inhibiting Primer) is a rust inhibiting primer which is suitable for finishing with both single and 2-pack paints and finishes. It contains the anti-corrosive properties of Marine Oil which enables it to stabilise the surface by penetrating deep into the substrate, driving out excess moisture and air to form a solid stable layer.
CIP is easy to use and does not require sand or shot blasting first. It can be used on both new and rusted surfaces. It will not dissolve or break down when even high solvent paints and finishes (urethane, epoxy, chlorinated rubber, synthetic, etc.) are applied to it and the pigmentation provides enhanced protection and perfect film-forming qualities. With Owatrol's Marine CIP, sand or shot-blasted surfaces do not require immediate priming as a light rust coating will not affect its performance or the final result.
Ideal uses for Marine CIP rust inhibiting primer
Outstanding for high performance in severe conditions such as marine or tropical environments
Resisting corrosive fumes
Protecting ballast tanks of ships
Perfect protection where a high resistant paint or two-pack finish is necessary
Outstanding adherance on clean bright steel
Surface Preparation
Surfaces must first be clean, dry and free from oil, grease and other surface contaminants. Remove all mill scale; loose and flaking rust and old paint back to a sound surface and edge and feather in any sharp edges. Any surfaces exposed to chemicals (acids, alkalis or salt deposits) should be washed using copious amounts of water or steam cleaned. Severely contaminated surfaces should be cleaned using an appropriate solvent.
Application of Marine CIP Corrosive Inhibiting Primer
Stir well before and during use.
Do not thin.
Applying CIP to new surfaces
Prime with 1 coat of Marine CIP and allow to dry. For surfaces subject to aggressive climatic conditions apply 2 priming coats.
Applying CIP to clean, lightly rusted or new unpainted rusty steel
Apply 2 coats of Marine CIP allowing drying time between coats.
Applying CIP to old or severely rusted surfaces
Either apply 3 coats of Marine CIP allowing drying time between coats or apply wet on wet applications of Marine Oil until the rust is fully saturated and allow to dry for 24 hours and then apply 2 coats of Marine CIP allowing drying time between coats.
Applying CIP to previously coated surfaces
First spot prime all exposed metal with 2 coats of Marine CIP allowing drying time between coats and then apply a 3rd coat over the entire area and allow it to dry.
Clean Up
Clean all tools and equipment with white spirit while still wet. If allowed to dry, remove with paint stripper.
NOTE: Any rags, steel wool etc. soaked in CIP may spontaneously catch fire if improperly discarded. Rags, steel wool etc. must be saturated with water after use or placed in a sealed, water filled metal container, before disposing with household waste.
Things to Remember
Cover everything you do not wish to paint.
Apply between 5˚C and 35˚C.
Do not apply in direct sunlight or on to hot surfaces.
Technical Data
| | |
| --- | --- |
| Coverage: | 15m2 per litre |
| Tools: | Brush, Roller, Airless Sprayer |
| Suitable for: | Exterior & Interior use |
| Clean up: | White Spirit |
| Drying Time: | 6 hours |
| Re-coating Time: | 24-72 hours depending on finish – C.I.P. 24 hours; oil/alkyd paints 24-48 hours; high solvent paints i.e. 2 pack, urethane etc 48-72 hours |
| Suitable Surfaces: | Ferrous and non-ferrous metals |